click to expand
A short fiction
drawn from an antique ferrotype photo
It has been some several weeks since I last received a letter from you. Our regiment has been on the march and we scarce have time to sit for our supper, still less to write a letter. No doubt the Postmaster has lost us again. Yet your photograph inspires me this evening to write down our recent adventures.
We are camped tonight some distance from Richmond, the farms in Virginia being not that different from those of New York. Just less trees and more clay. It has been awful hot this last week, and General Jackson's soldiers should take some lessons from the Virginny Skeeters which bite mighty fast and sharp. It makes playing my cornet a challenge.
The band is wore out from all the work this last month, as all the bands from the Volunteer Regiments have been mustered out. Seems the Secretary of War decided it was too much to pay for every camp to have a band. We picked up a few musicians to fill the gaps. Most of our loss have been from sickness, but you are not to worry as thankfully my health has been good.
A soldier's life progresses mostly at a walk, sometimes a canter, but then the bugles blow and drums clatter and everyone moves at a gallop. Our horns sound tunes for daily formations, parade reviews on Sunday, and occasional "skirmishes" with the Rebel bands across the battlefield. Mainly w
e play regular serenades for the officers though the enlisted get to hear too.
I've penned a few new songs for our boys, just to keep them amused. We had 24 musicians but between one thing and another we are down to 19.
We did a spot of bravura earlier this summer off the York river. We don't often get into the thick of battle but this time Johnny Reb had a bit more sting and some of our companies were running back. The Brigadier was riding back and forth, shouting for all he was worth and it wern't doing. Then he spots us under the trees, moving off to pick up casualties for our hospital duty. Up he rides and calls, "You bandsmen - Halt there! Halt! Give us Yankee Doodle or some other d__ned doodle!" So we dropped our litters and got our horns out and commenced to blow as loud as we could blow
. As we were taking some lead in the air too,
in our excitement I think we played Nelly Bly or Hail Columbia or some other doodle, but by Gosh that turned our fellows round and they remade their lines and pushed back. By the end of the morning, the Rebs had fallen a good ways aback from where they had started.
I hear the orderly coming round now, so I must finish in haste. I remain your loving husband and pray that this war will soon end and we will be together again.
This unmarked tintype photo of an anonymous musician with his wife presents some challenges to a history detective. I can not say with any certainty that he is a bandsman from the Union army or even that the photo dates from 1861-1865. So even if I may think so now, everything in the above letter is just an invention to tell something about a musician of that time, and I may have it all wrong. (However the story of the officer ordering a band to play Yankee Doodle is true, though the band was never identified.) There are clues that suggest the Civil War era is possible, but other clues that may contradict that time frame. The photo type is the first clue.
The
Tintype
or Ferrotype photo was introduced to the public in the late 1850s as an inexpensive and quicker process for making a photograph. The "tin" is actually a thin sheet of iron painted with a black "japan' enamel, that the photographer uses as the base for the wet chemical coating that captures the image. The exposure could be very tricky to time and might take several seconds, hence the often stiff expressions of the subjects, who might have small stands hidden behind them to hold their heads steady. The process involved several steps with different chemical baths and was quite a specialized craft as each photo was individually prepared. Like the similar
ambrotype
which uses the wet plate collodion process but on glass, the tintype photo is a mirror image that is reversed from a true left/right.
If you look at the man's uniform coat, the buttons are on his left and buttonholes on his right, opposite the traditional arrangement for men's garments. And the cornet is also shown in a reversed image, as it is always a right-handed instrument.
The metal sheets used for ferrotype photos could be as small as
gem
size, 3/4" x 1", but this one is the more typical size, 2_3/8" x 3_1/2". Tintypes might be stored in a wooden or thermoplastic hinged case or wrapped in a paper mat envelope. This photo unfortunately has lost its original case which might have identified the location or date of the photographer.
The instrument is an E-flat cornet with top action rotary valves. A design that is near identical to a cornet made by
John F. Stratton
(1832-1912) of Brooklyn, NY. An accomplished cornetist and band leader, Stratton opened a shop in New York City manufacturing and importing brass instruments in 1859. During the war he supplied the Union army with over 60,00 bugles. His business expanded after the war with the increased popularity of brass bands, and he built two factories in Germany to manufacture brass and string instruments.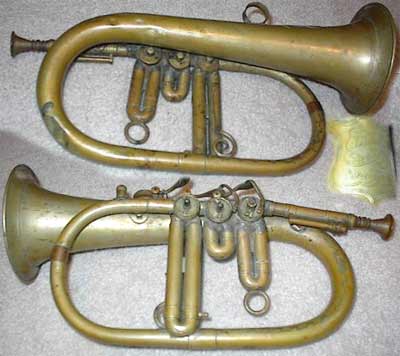 John F Stratton Eb Cornet
This image of a Stratton cornet comes from
horn-u-copia.net
a large internet encyclopedia for collectors of antique brass instruments. The Stratton cornet has a very pronounced conical bore, very like a bugle and not like a modern trumpet which is mostly cylindrical until the final bell flare.
Another and even better example of a
Stratton Cornet
can be found at the
National Music Museum.
Click the link. We'll wait.
Though most Union and Confederate army bands used sets of brass
Over-the-Shoulder
style horns which point the bell backwards, the bell-front cornets were sometimes used as the lead soprano voice. If the cornet in my photo is made by John F. Stratton, it would be a likely instrument for a regimental bandsman from New York.
At the start of the war in 1861, there were bands for nearly every volunteer regiment in the Union Army. The campaigns that first year had nearly
28,000 musicians
, which included the field musicians, i.e. buglers and drummers used for signalling, as well as the regimental bands. Most infantry bands had 24 musicians, with an annual expense of $13,139.40. With over 600 bands, the cost was too much for
Secretary of War, Edwin Stanton
and by July 1862 he abolished the many Volunteer Regimental bands and reorganized the regular army bands into Brigade Bands.
Edwin M. Stanton




U.S. Secretary of War 1861-1868
The cornet player in my photo wears a military style frock coat, that resembles those worn by some soldiers in the war. Unfortunately his belt buckle is hidden and there is not enough definition to see if the buttons are army issue. The collar is consistent with an army coat, and though he has no shoulder strap or chevron to indicate rank, that would be the style for an enlisted man. But the cuff and the hat are the problem, as I can't find any matches in the standard army dress regulations. His cuff may indicate a special branch unit like artillery or cavalry, both of which had bands, but the hat looks more like a soft cap than the kepi style adopted by both the North and South military. And he may be a bandsman from the decade after the Civil War, 1865-1875, though I believe he wears a military outfit and not that of a civilian band musician.
The woman wears a dress and hair style that fits the 1860s. Note the ring on her finger. But there may be other details that point to a later decade.
Last year I posted a story on a similar couple from New York,
Mr. & Mrs. Albee Turner
but that cdv had several good clues, notably the annotation of the names. This photo still needs more research, but I do feel that it represents a musician and his wife posing for a camera on a date important to them, perhaps their marriage, or the husband's departure to war.
Only they can provide the real answer to the riddle, but their lips are sealed.
where you might find more wedding bells and happy couples.